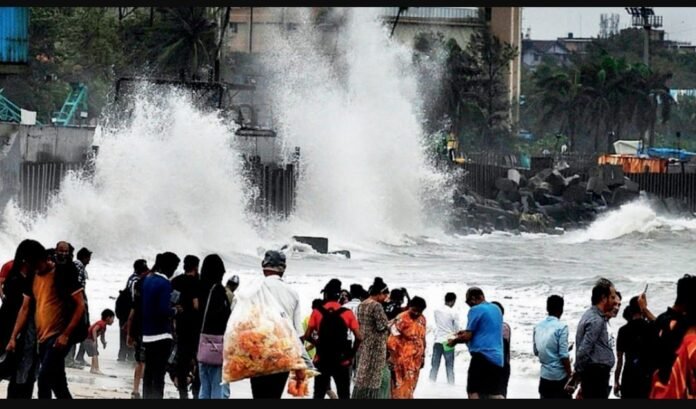 Mumbai, July 23, 2023 – The metropolis of Mumbai experienced a deluge yesterday as torrential monsoon rains lashed the suburbs, bringing life to a standstill and breaking a nine-year record for July rainfall. With an astounding 204mm of rainfall recorded in the last 24 hours, the city's suburbs faced significant challenges in navigating the waterlogged streets and flooded areas.
The relentless downpour, which started late yesterday afternoon and continued through the night, inundated several low-lying areas and disrupted essential services. Local authorities were on high alert, urging residents to exercise caution and stay indoors if possible.
This year's July rainfall has proven to be particularly intense, ranking as the third-highest in nearly a decade. The city's weather monitoring stations reported that the last time such heavy rains occurred during this month was back in 2014. The sudden and substantial surge in rainfall has raised concerns among citizens and experts about the increasing frequency of extreme weather events in the region, possibly linked to climate change.
The heavy rains caused havoc in the city's transportation system, leading to massive traffic jams and train delays. Waterlogged roads turned into treacherous traps for motorists, and train services along certain routes were temporarily suspended due to flooding on tracks. Commuters faced harrowing journeys back home, with many stranded for hours, highlighting the need for improved urban infrastructure to handle such weather emergencies.
The suburban areas bore the brunt of the downpour, with flooding reported in numerous localities. Residents were seen wading through knee-deep water to reach safer grounds. The civic authorities and disaster response teams worked tirelessly to provide aid and support to affected communities, rescuing stranded individuals and providing temporary shelters.
With the monsoon season far from over, residents are keeping a close eye on the weather forecasts, hoping for respite from the incessant rains. The meteorological department predicts intermittent showers in the upcoming days, raising concerns about further waterlogging and its impact on daily life.
Experts emphasize the importance of proactive urban planning and sustainable development to address the challenges posed by heavy monsoons. As climate change continues to impact weather patterns, adapting cities to withstand such extreme events is crucial for the safety and well-being of residents.
The authorities are urging citizens to take necessary precautions during this monsoon season, including avoiding unnecessary travel, staying informed about weather updates, and following guidelines issued by emergency services.
As the city grapples with the aftermath of one of the most intense July downpours in recent years, the focus remains on enhancing Mumbai's resilience and preparedness to cope with the unpredictable and often overwhelming forces of nature.