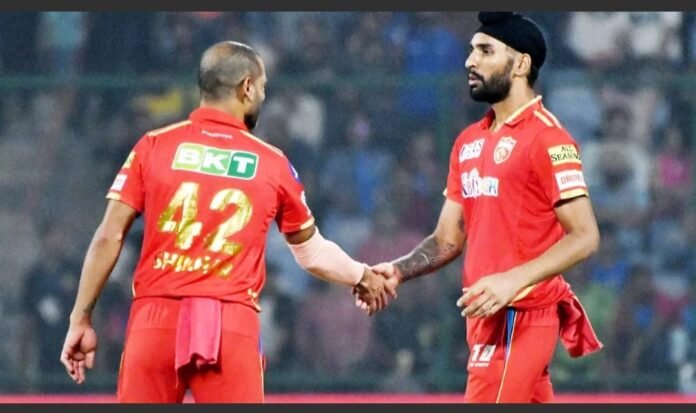 New Delhi – In a devastating setback for the Punjab Kings, their captain Shikhar Dhawan has expressed deep frustration following the substantial blow dealt by the Delhi Capitals in their quest to qualify for the IPL 2023 playoffs. Wednesday's clash between the two teams left Punjab Kings reeling, jeopardizing their chances of securing a spot in the much-anticipated tournament playoffs.
The match, characterized by intense competition and high stakes, saw Punjab Kings struggle to gain the upper hand against a formidable Delhi Capitals side. With hopes riding high on a crucial victory, Shikhar Dhawan faced the daunting task of making strategic decisions that would shape the outcome of the game. However, one particular decision seemed to have backfired, leading to Dhawan's evident frustration.
Dhawan's choice to entrust the crucial final over to Harpreet Brar did not yield the desired results, leaving room for second-guessing and self-reflection. The disappointment and frustration were palpable as Punjab Kings were unable to contain the Delhi Capitals' relentless onslaught, resulting in a significant setback to their playoff aspirations.
The Punjab Kings had been making commendable progress in the tournament, with Shikhar Dhawan leading from the front as both captain and key batsman. However, the recent defeat has put their playoff dreams in jeopardy, urging the team to regroup and reassess their strategies as they face mounting pressure in the remaining matches.
While Shikhar Dhawan's frustration is understandable, it is important to remember the dynamic nature of cricket and the ever-present element of unpredictability. The sport has often witnessed unforeseen turnarounds and moments of brilliance that can swiftly alter the course of a match or even an entire season.
As the Punjab Kings lick their wounds and work towards revitalizing their campaign, they must channel their disappointment into renewed determination. With a talented roster and a captain of Dhawan's caliber, the team still possesses the ability to turn the tide in their favor and make a resounding comeback in the remaining fixtures.
The IPL 2023 season has been marked by fierce competition and nail-biting encounters, and Punjab Kings' journey has been no exception. While setbacks and frustrations are an inevitable part of any sporting endeavor, it is the resilience and ability to learn from such experiences that often separate the best from the rest.
As cricket fans eagerly anticipate the next chapter in this enthralling tournament, Punjab Kings, under the leadership of Shikhar Dhawan, will undoubtedly strive to overcome their recent setback, reclaim their winning form, and reignite their playoff ambitions.