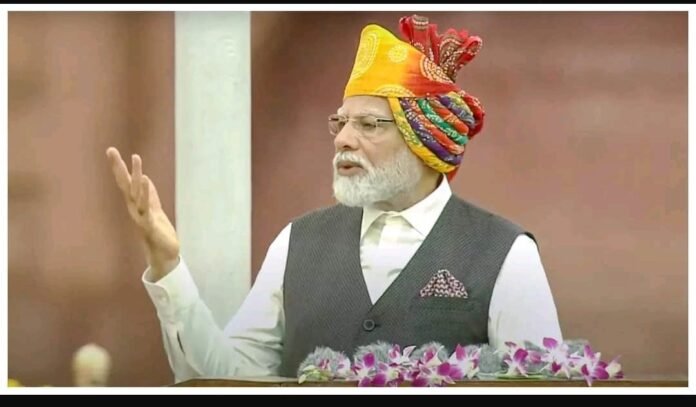 "Embracing Peace as the Definitive Path for Resolving the Manipur Issue": Highlighting Prime Minister Modi's Quotes from the 10th Independence Day Address
In a resounding assertion of commitment to resolving the complex challenges faced by the region, Prime Minister Narendra Modi, in his 10th Independence Day speech, eloquently underscored the significance of peace as the ultimate and indispensable solution to the Manipur issue. The address, delivered on the auspicious occasion of India's Independence Day, carried a profound message of reconciliation and progress for the northeastern state.
With an unwavering emphasis on the critical role that peace plays in achieving lasting resolutions, the Prime Minister expressed his deep conviction that peace is not just a desirable outcome, but the only viable route to tackling the intricate concerns plaguing Manipur. "Our efforts must be rooted in dialogue and understanding, for it is through peaceful negotiations that we can pave the way for a harmonious and prosperous Manipur," he articulated.
In a tone of optimism, Prime Minister Modi reiterated the government's steadfast commitment to facilitating open conversations and inclusive discussions to address the core issues faced by the region. He acknowledged the historical significance of Manipur and its unique cultural heritage, asserting that "honoring the distinct identity of Manipur is a cornerstone of our approach to fostering enduring solutions."
The Prime Minister's address also echoed the sentiment that development and progress can only be achieved in an environment of tranquility and cooperation. He called upon all stakeholders, including various community leaders and political representatives, to collectively strive towards a future where the aspirations of Manipur's people are met through peaceful means. "It is by working hand in hand, transcending differences and upholding the principles of peace, that we can usher in an era of unprecedented growth for Manipur," he emphasized.
Furthermore, Prime Minister Modi emphasized the need to create an atmosphere of trust and confidence among the people of Manipur, assuring them that their concerns and grievances will be heard and addressed through transparent and sincere dialogues. "Our commitment to resolving the Manipur issue goes beyond mere rhetoric; it is a commitment etched in the spirit of our nation," he asserted.
As the nation celebrates another year of independence, Prime Minister Modi's address serves as a clarion call for unity, understanding, and peaceful coexistence. By prioritizing peace as the sole avenue to resolve the intricate challenges facing Manipur, he has set a hopeful and determined tone for a future marked by progress, prosperity, and lasting harmony in the region.