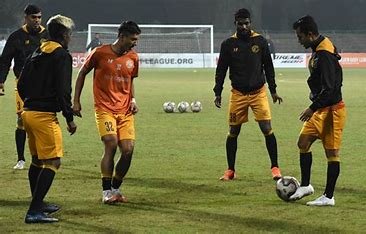 Punjab FC, the reigning champions of the I-League, have officially secured their promotion to the top-tier Indian Super League (ISL) after meeting the necessary licensing criteria set by the All India Football Federation (AIFF). This development comes as a significant milestone for the club, affirming their place among the elite teams in Indian football.
The Club Licensing Committee of the AIFF convened via video conference and granted Punjab FC the coveted Premier 1 License, a prerequisite for participation in the ISL. Punjab FC, formerly known as Minerva Punjab FC before being acquired and rebranded by RoundGlass Sports Pvt Ltd. in April 2020, clinched the I-League title for the 2022-23 season.
In a statement, the AIFF announced that Premier 1 Licenses were granted to nine clubs, including Punjab FC. This recognition solidifies their promotion to the upcoming 2023-24 Hero ISL season. The other clubs awarded the Premier 1 License are Mumbai City FC, ATK Mohun Bagan FC, FC Goa, Jamshedpur FC, Bengaluru FC, Chennaiyin FC, Odisha FC, and Kerala Blasters FC.
However, three ISL clubs, namely NorthEast United FC, Hyderabad FC, and East Bengal FC, failed to secure licenses due to multiple non-compliance with the licensing criteria. The Indian Club Licensing system is an annual process that mandates clubs to obtain licenses to participate in national and AFC club competitions.
Under the latest regulations, ISL clubs are required to apply for the 'ICLS Premier 1' license, granting them participation in all AFC club competitions and the ISL itself, subject to qualification on sporting merit. On the other hand, I-League clubs must apply for the 'ICLS Premier 2' license, allowing them to participate in the AFC Cup and the I-League, also subject to qualification on sporting merit.
The AIFF's decision to exempt the clubs from fulfilling the youth teams criteria, upon formal application to the Asian Football Confederation (AFC), aimed to alleviate some of the challenges posed by the ongoing pandemic.
Additionally, the Committee, chaired by Girija Shanker Mungali, approved a shortfall in spending over the "Club Development Plan of F10 Criteria" for the financial year 2021-22 due to the pandemic. The clubs provided a declaration to compensate for the shortfall over the next three financial years.
The successful acquisition of the Premier 1 License marks a significant milestone for Punjab FC, validating their performance and stature as one of India's premier football clubs. With their promotion to the ISL, Punjab FC will have the opportunity to showcase their talent and compete against some of the best teams in the country, further elevating the quality and competitiveness of Indian football. Fans eagerly anticipate the upcoming season as Punjab FC prepares to make their mark in the top-flight league.