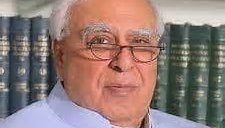 Rajya Sabha MP Kapil Sibal took a sharp dig at the Modi government as it completed nine years in office, highlighting the alleged divisive politics, eroding promises of "achche din" (good days), and the capture of institutions, while calling for a change of government in the upcoming 2024 general elections.
In a tweet, Sibal used rhyming lines to express his criticism, stating, "Nine years of Modi, media is 'Godi' and India is Modi. Fear and deception, no need for correction. Politics divided, 'achche din' subsided. Opposition is grounded, key leaders are hounded. Institutions captured, society ruptured." His remarks reflect his concerns about the state of the nation under the BJP-led NDA government.
Sibal, a former Union minister during the UPA-1 and UPA-2 governments, has been an outspoken critic of the ruling party. He had quit the Congress last year and was elected to the Rajya Sabha as an Independent member with the Samajwadi Party's support. Recently, he launched a non-electoral platform called 'Insaaf,' aimed at fighting against injustice.
Sibal's comments come in response to the BJP's highlighting of the government's achievements over the past nine years, touting all-round development and inclusive growth under Prime Minister Narendra Modi's leadership. However, Sibal's criticism suggests a different narrative, one that questions the government's performance on various fronts.
According to Sibal, politics in the country has become increasingly divided, with the promise of "achche din" fading away. He also alleges that key opposition leaders are being targeted and hounded, further weakening the democratic fabric. Moreover, he asserts that institutions have been captured, raising concerns about their independence and functioning. Additionally, Sibal points to a fractured society, suggesting that divisions and conflicts have escalated under the current government.
The call for a change in government in the 2024 general elections indicates Sibal's belief that a new leadership is needed to address the challenges and concerns he sees in the current administration. As the country heads towards the next electoral cycle, it remains to be seen how these criticisms and calls for change will shape the political landscape and public discourse.
Kapil Sibal's scathing criticism of the Modi government's nine-year rule revolves around the perceived division in politics, unfulfilled promises, the capture of institutions, and a fractured society. As a prominent opposition voice, his remarks fuel ongoing debates about the performance and direction of the ruling party, setting the stage for a potentially contentious 2024 general election.