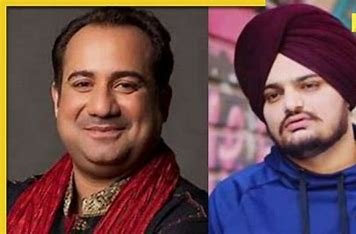 In a heartfelt tribute to the late Punjabi singer Sidhu Moosewala, the legendary Pakistani qawwali artist Rahat Fateh Ali Khan dedicated a powerful performance during one of his concerts in the United States. This gesture marked the first death anniversary of Moosewala, whose untimely demise sent shockwaves through the music industry and his legion of fans worldwide.
Rahat Fateh Ali Khan, known for his soul-stirring renditions of Bollywood hits such as "Mann ki lagan," "Jiya dhadak dhadak," "Bol na halke halke," and "Dagabaaz re," chose to pay homage to Moosewala by performing the popular qawwali "Akhiyan Udeek Diyan." The emotional performance resonated deeply with the audience, and several videos capturing the poignant moment quickly went viral on social media platforms.
Sidhu Moosewala, born Shubhdeep Singh, was tragically shot dead on May 29 last year in Punjab's Mansa district. He had amassed a devoted following in India and abroad with his unique blend of singing and rap, producing chart-topping tracks like "So High," "Same Beef," "The Last Ride," "Just Listen," and "295." Moosewala's music transcended borders, uniting fans with its relatable themes and infectious beats.
Back in Mansa, a candle march was organized to commemorate Moosewala's memory on his first death anniversary. Fans and supporters gathered in Moosa village in large numbers, joining together to seek "justice" for the slain singer. Moosewala's mother, Charan Kaur, also participated in the march, emphasizing the enduring impact her son had on his fans.
In addition to the candle march, prayers were held at a gurdwara in Jawahar Ke village, where people gathered to remember and honor the talented artist. These events showcased the profound impact Sidhu Moosewala had on his community and served as a testament to his artistic legacy.
The homage paid by Rahat Fateh Ali Khan, a highly respected figure in the world of qawwali, highlighted the universal language of music that transcends boundaries. It symbolized the power of music to unite people and bridge cultural divides, as two renowned artists from neighboring countries connected through their shared passion for music and respect for a fellow artist.
As the first death anniversary of Sidhu Moosewala unfolded, the music world remembered the gifted artist whose influence and spirit continue to live on through his timeless melodies. The tribute by Rahat Fateh Ali Khan, along with the candle march and prayers, served as a testament to the enduring impact of Moosewala's artistry and the love he garnered from his fans, ensuring that his legacy will forever be etched in the hearts of music lovers around the world.