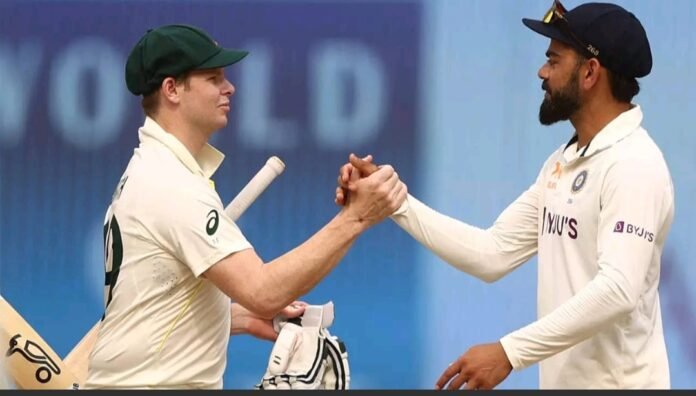 In a recent interview, Indian cricket captain Virat Kohli paid a remarkable tribute to Australian batsman Steve Smith, bestowing upon him the title of the finest Test batter of their generation. Kohli's recognition of Smith's exceptional skills comes as no surprise, considering both players' formidable rivalry on the cricket field and their mutual respect for each other's abilities.
Kohli, known for his aggressive and dominating style of play, has been widely regarded as one of the premier batsmen in contemporary cricket. However, the Indian skipper humbly acknowledged Smith's prowess, emphasizing the Australian's exceptional performances in the Test arena.
Smith's remarkable consistency and unique batting technique have set him apart from his peers. His unorthodox style and incredible ability to read bowlers have made him a formidable opponent for any bowling attack. With an impressive average of over 60 in Test cricket, Smith has displayed his ability to single-handedly steer Australia to victory on numerous occasions.
While Kohli himself has enjoyed tremendous success in the Test format, he acknowledged Smith's ability to dominate the game, stating, "Steve Smith's records speak for themselves. The way he has batted and consistently performed in Test matches is a testament to his exceptional skill and mental strength."
The rivalry between Kohli and Smith has been a captivating subplot in the modern era of cricket. Their clashes on the field have often been fierce and intense, but their off-field camaraderie is characterized by a deep mutual respect. Kohli's acknowledgment of Smith's greatness further highlights the camaraderie and sportsmanship shared among the world's top cricketers.
It is worth noting that both Kohli and Smith have had a significant impact on the sport beyond their batting prowess. They have inspired countless aspiring cricketers worldwide, showcasing the dedication and discipline required to achieve greatness. Their work ethic and passion for the game serve as a testament to the heights that can be reached through sheer determination and skill.