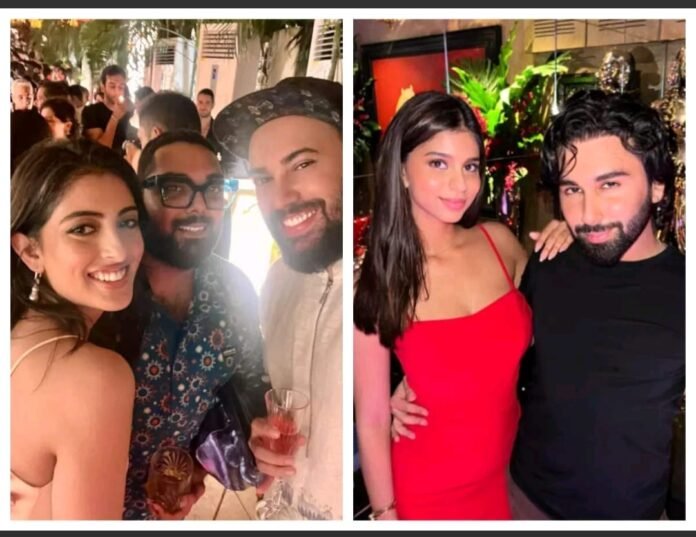 Renowned Bollywood fashion designer Sandeep Khosla recently marked a milestone as he celebrated his 60th birthday in style. Surrounded by a star-studded gathering of close friends, industry stalwarts, and loved ones, the grand affair became an unforgettable night filled with joy, laughter, and a touch of high fashion.
The extravagant birthday bash, held at a luxurious venue, played host to a dazzling array of celebrities from the world of Bollywood. Leading the pack was Suhana Khan, daughter of superstar Shah Rukh Khan, who turned heads with her impeccable style and grace. Suhana, who is known for her own sartorial choices, set the tone for the glamorous evening as she arrived in a stunning ensemble that perfectly accentuated her youthful charm.
Adding to the star power was veteran actress Jaya Bachchan, whose elegance and poise were on full display as she joined the celebration. Jaya, a true icon of Indian cinema, showcased her timeless beauty in an ethereal outfit, capturing the attention of onlookers and reaffirming her status as a fashion maven.
Nvya Naveli Nanda, the granddaughter of legendary actor Amitabh Bachchan, also made her presence felt at the glittering event. The young and dynamic Nvya, known for her keen fashion sense, opted for a contemporary ensemble that exuded confidence and sophistication, effortlessly blending traditional and modern aesthetics.
Not to be outdone, Sussanne Khan, interior designer and former wife of Bollywood star Hrithik Roshan, made a chic and fashionable statement of her own. Sussanne's impeccable sense of style was evident as she graced the occasion in an eye-catching ensemble, turning heads and garnering admiration from the fashion-forward crowd.
While these prominent personalities made waves with their striking appearances, they were just a few among the many who flocked to celebrate Sandeep Khosla's special day. Bollywood's crème de la crème, including actors, directors, and industry insiders, were seen mingling, exchanging warm greetings, and raising a toast to the esteemed fashion maven.
As the night unfolded, the venue buzzed with excitement and joy. The air was filled with laughter, animated conversations, and the sounds of music that set the perfect backdrop for the celebration. With delectable cuisine, flowing beverages, and a festive atmosphere, the evening became a true extravaganza, exemplifying the glamour and allure of the Indian film industry.
Sandeep Khosla, the man of the hour, graciously played the role of the perfect host, radiating warmth and happiness throughout the night. The birthday boy was seen mingling with guests, exchanging anecdotes, and enjoying the company of his loved ones. Surrounded by the who's who of Bollywood, he couldn't have asked for a more memorable way to mark this significant milestone in his life.
As the clock ticked and the night came to a close, memories were made that would be cherished for years to come. Sandeep Khosla's 60th birthday bash will be remembered not only as a celebration of his remarkable journey in the fashion industry but also as a testament to the indomitable spirit and glamour that define the world of Bollywood.
In the end, the star-studded affair served as a reminder of the strong bonds that unite the Indian film fraternity and the shared joy experienced when celebrating the accomplishments of one of their own. Sandeep Khosla