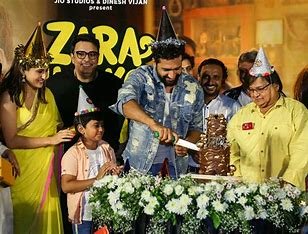 Vicky Kaushal and Sara Ali Khan are all set to captivate audiences with their upcoming film "Zara Hatke Zara Bachke," which promises to be a delightful family entertainer. Directed by Laxman Utekar, known for his successful films "Luka Chuppi" and "Mimi," the Hindi movie is eagerly awaited as it marks both actors' return to the big screen after a long hiatus.
During the trailer launch of the film, Vicky Kaushal expressed his excitement about the theatrical release, stating that it had been a while since he and Sara had their last cinematic outings before the COVID-19 pandemic. He described the movie as a true family film that would be enjoyed by all generations, reminiscing about his own family while working on the project.
Sara Ali Khan echoed Kaushal's sentiment, emphasizing that "Zara Hatke Zara Bachke" is a wholesome film that encompasses a wide range of emotions. She encouraged audiences to experience the complete cinematic experience by watching it in theaters with their families.
Producer Dinesh Vijan, present at the event, emphasized that the film is tailor-made for families. He praised Laxman Utekar for ensuring a theatrical release, despite the growing trend of digital releases. Vijan believed that watching a film together in a theater is a more enjoyable experience, as it creates an atmosphere of shared laughter and emotional connection. He guaranteed that the film would leave audiences with a renewed appreciation for their own families.
Set in the city of Indore, "Zara Hatke Zara Bachke" is a romantic comedy that revolves around the lives of Kapil and Somya, played by Vicky Kaushal and Sara Ali Khan, respectively. The couple finds themselves on the verge of divorce, and the film follows their journey as they navigate the ups and downs of their relationship.
Scheduled for release on June 2, the movie also features Sharib Hashmi and Rakesh Bedi in supporting roles. Produced by Maddock Films and Jio Studios, "Zara Hatke Zara Bachke" aims to bring laughter and tears to audiences, leaving them with a heartwarming message about the importance of family bonds.