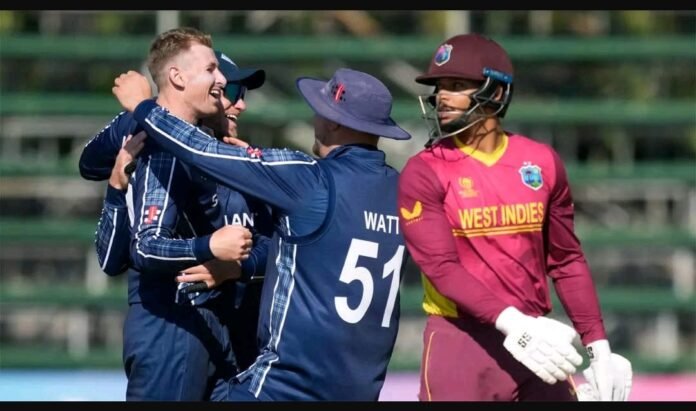 In a surprising turn of events, the West Indies cricket team, once a dominant force in the cricketing world, has failed to secure a spot in the highly anticipated 2023 ODI World Cup. The tournament, set to take place in India, will witness the absence of the two-time former champions, leaving fans and cricket enthusiasts shocked and disappointed.
The West Indies team, renowned for its rich cricketing legacy and iconic players, had emerged victorious in the prestigious World Cup competition on two occasions in the past. Their triumphs in 1975 and 1979 under the leadership of the legendary Clive Lloyd had established them as a force to be reckoned with in international cricket. However, recent years have seen a decline in their performance, leading to their failure to qualify for the upcoming tournament.
Throughout their cricketing journey, the West Indies team has exhibited moments of brilliance, captivating fans with their explosive batting, formidable pace bowling, and extraordinary fielding. Their distinctive style of play, known for its flair and aggression, has left an indelible mark on the cricketing world. However, the team's recent struggles have been met with concern and introspection within the cricketing fraternity.
The qualification process for the 2023 ODI World Cup demanded a high level of competition, with numerous teams vying for the limited spots available. Unfortunately, the West Indies team fell short in their bid to secure qualification, highlighting the intense nature of the qualifying process and the ever-increasing competitiveness in international cricket.
As cricket fans digest this unexpected news, questions are being raised about the future of West Indies cricket. While the team has faced challenges in recent times, there remains hope that they will regroup, strategize, and bounce back stronger than ever. With a rich pool of talented players and a history of producing cricketing legends, the West Indies team has the potential to reclaim their glory days.
For cricket enthusiasts, the absence of the West Indies in the 2023 ODI World Cup will undoubtedly create a void. Their unique brand of cricket, infused with Caribbean flair, will be sorely missed. However, the tournament promises to showcase the finest talents from around the globe, as teams compete for cricket's most coveted trophy.
As the cricketing world eagerly awaits the 2023 ODI World Cup, the West Indies cricket team will now turn their attention to future tournaments and opportunities to regain their status as champions. It is a time for introspection, reevaluation, and renewed determination, as the team strives to return to the pinnacle of international cricket and once again thrill fans with their awe-inspiring performances.
Though their absence in the upcoming World Cup may be disappointing, the West Indies cricket team will forever be remembered for their immense contributions to the sport. Their legacy as two-time champions and the exciting memories they have provided cricket fans worldwide will continue to inspire generations to come.