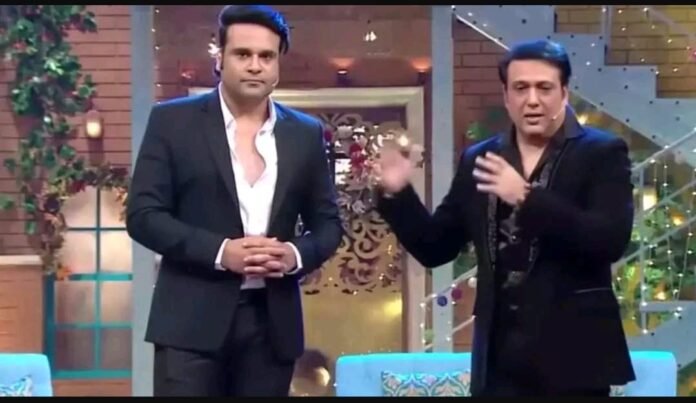 In a heartwarming gesture, popular comedian and actor Krushna Abhishek recently took to Instagram to share a heartfelt post, marking a significant step towards mending his strained relationship with his maternal uncle, the legendary actor Govinda. The Instagram post showcased a nostalgic memory as Krushna recalled visiting one of Govinda's films, highlighting a potentially positive turn in their relationship.
The long-standing tensions between Krushna Abhishek and Govinda have been widely discussed in the media, with speculations about their estrangement filling the gossip columns for years. However, it appears that the recent Instagram post signifies a genuine attempt by Krushna to bridge the gap and re-establish a bond with his uncle.
In the post, Krushna expressed his nostalgia and gratitude towards his uncle, recounting the cherished memories of visiting the sets of one of Govinda's films. The accompanying photograph showcased the two actors together, radiating a sense of warmth and camaraderie.
While Krushna's decision to tag Govinda in the post certainly caught the attention of fans and followers, it was the emotional caption that truly touched the hearts of many. He poured his emotions into words, expressing his admiration for Govinda's talent and how those childhood visits left an indelible mark on his own journey in the entertainment industry.
The Instagram post quickly garnered attention, with fans eagerly awaiting Govinda's response. The positive reactions from followers flooded the comment section, applauding Krushna's efforts to reconcile with his uncle and encouraging a reunion between the two.
This public display of affection and respect seems to indicate a genuine desire from Krushna Abhishek to heal the wounds and rebuild the family bond that has suffered over time. While the complexities of their strained relationship may not be resolved overnight, this Instagram post symbolizes a significant step forward in the right direction.
It is worth noting that reconciliations within families are often a delicate process, and their journey towards rebuilding a strong bond may involve hurdles and setbacks. However, Krushna's public acknowledgment of his uncle's influence and the willingness to share positive memories marks a promising start to this new chapter.
As fans and well-wishers, we can only hope that this gesture of goodwill will lead to a more profound understanding and reconciliation between Krushna Abhishek and Govinda, bringing joy to their family and fans alike. In the end, it is a testament to the power of love and forgiveness, proving that even strained relationships can find a way back to harmony with time and effort.