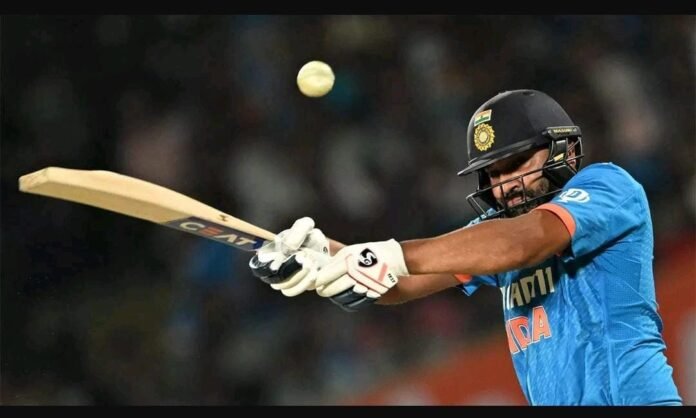 In a recent interview, Pakistani cricket sensation Shadab Khan expressed his admiration for Indian cricket star Rohit Sharma, labeling him as the most challenging batsman to bowl to. Khan's remarks shed light on the universal respect and acknowledgment that Rohit Sharma has garnered across the cricketing world.
Shadab Khan, known for his formidable leg-spin and versatile all-round abilities, has had his fair share of battles against top-class batsmen on the international stage. However, when asked about the most formidable opponent he has faced, he unequivocally pointed to Rohit Sharma.
Khan cited Sharma's impeccable timing, unflappable temperament, and an expansive array of strokes as the reasons behind his formidable reputation as a batsman. He mentioned how Rohit's ability to effortlessly switch gears between different formats of the game sets him apart from the rest. Whether it's the finesse of Test cricket, the explosiveness of T20s, or the elegance of ODIs, Sharma excels in every format, making him a headache for bowlers worldwide.
Shadab Khan also lauded Rohit's adaptability and his knack for thriving under pressure. According to Khan, Rohit's cool demeanor at the crease often unnerves bowlers, making it a Herculean task to devise a strategy to dismiss him early.
The admiration that Shadab Khan holds for Rohit Sharma isn't an isolated sentiment. Many bowlers from different countries have expressed similar sentiments about the Indian opener. Rohit's remarkable records, which include three double centuries in ODIs, multiple centuries in World Cup matches, and a consistent run of high scores, speak volumes about his prowess as a batsman.
In conclusion, Shadab Khan's words reflect the universal respect and admiration that Rohit Sharma has earned as one of the most challenging batsmen to bowl to in contemporary cricket. Sharma's consistency, adaptability, and unwavering composure make him a formidable adversary for bowlers worldwide, a fact reinforced by the praise he receives from his peers like Shadab Khan.