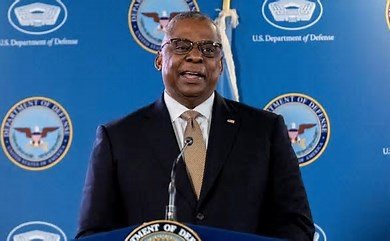 US Defense Secretary Lloyd Austin is set to embark on a crucial trip next week, visiting India, Japan, Singapore, and France in a bid to bolster defense partnerships and strengthen regional cooperation. The visit comes ahead of Indian Prime Minister Narendra Modi's official state visit to the White House next month, highlighting the growing importance of the US-India relationship.
The primary focus of Secretary Austin's visit to New Delhi is to meet with his Indian counterpart, Defense Minister Rajnath Singh, and other key leaders. The United States and India have been actively working to enhance their defense ties through the US-India Major Defense Partnership, and this visit presents an opportunity to further accelerate defense innovation and industrial cooperation initiatives. Both countries aim to expand operational cooperation between their respective militaries, aligning their interests in the Indo-Pacific region.
Prior to his arrival in India, Secretary Austin will kick off his trip in Japan. He plans to meet with Japanese Defense Minister Yasukasu Hamada and other senior leaders, reaffirming the strong alliance between the two nations. This visit follows the historic US-Japan 2+2 ministerial meeting earlier this year, where both countries made significant strides in modernizing alliance capabilities and optimizing US force posture. The discussions will also explore avenues to strengthen partnerships with like-minded nations in the region.
Singapore is the next destination on Secretary Austin's itinerary, where he will deliver a keynote speech at the 20th Shangri-La Dialogue hosted by the International Institute for Strategic Studies (IISS). This prestigious event brings together defense ministers, military officials, and experts from around the world to discuss regional security challenges. Secretary Austin's plenary remarks will emphasize the US commitment to the shared vision of a free and open Indo-Pacific, anchored in ASEAN centrality. He will engage with key leaders on the sidelines of the Dialogue to advance defense partnerships in the region.
Concluding his trip, Secretary Austin will visit France to participate in events commemorating the 79th anniversary of D-Day. This occasion offers an opportunity for him to meet with French and United Kingdom defense leaders, fostering transatlantic cooperation and underscoring the enduring partnerships among these nations.
Secretary Austin's multi-country visit underscores the United States' strong commitment to advancing regional security and strengthening defense partnerships. By engaging with key allies and partners, the US aims to foster a stable and prosperous Indo-Pacific region while addressing common challenges and promoting shared values. These diplomatic efforts lay the groundwork for Prime Minister Modi's upcoming visit to the United States, further deepening the strategic partnership between the two countries.