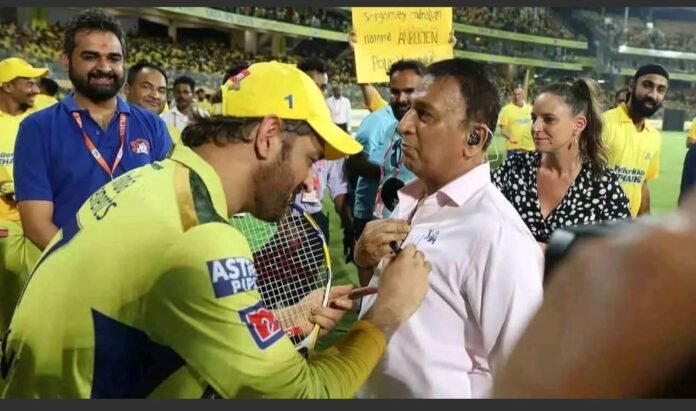 In a heartwarming incident at the recently concluded IPL 2023, Sunil Gavaskar, the renowned Indian cricketer, expressed the true sentiments behind his impulsive action and the overwhelming emotions he experienced when he received an autograph from Chennai Super Kings' skipper, MS Dhoni, after their last league match at Chepauk.
Gavaskar, a cricketing icon himself, shed light on the special significance of the encounter, revealing the genuine reasons that touched him deeply. Reflecting on the moment, he emphasized the immense respect he holds for Dhoni's contributions to Indian cricket and the sport as a whole.
The incident unfolded after the intense clash between Chennai Super Kings and Sunrisers Hyderabad, where the crowd witnessed Gavaskar, who was present as a commentator, approach Dhoni with a shirt, seeking his autograph. The unexpected gesture left both fans and players surprised, and it soon became evident that this act held immense personal significance for the legendary cricketer.
Gavaskar confessed that he was overwhelmed by a flood of emotions as he handed his shirt to Dhoni, his admiration for the former Indian captain evident on his face. Speaking about the experience, Gavaskar explained, "For me, it was not just about an autograph. It symbolized my deep respect and admiration for Dhoni's contributions to Indian cricket. His calm demeanor, exceptional leadership, and numerous achievements have left an indelible mark on the sport."
The autograph from Dhoni holds immense sentimental value for Gavaskar, representing a passing of the baton from one cricketing legend to another. It signified the continuation of the legacy of greatness that Gavaskar himself embodied during his illustrious career. The shared connection between the two cricketers, who have captivated the nation with their prowess and leadership, was evident in that heartfelt moment.
Gavaskar's impulsive act touched the hearts of cricket fans worldwide, highlighting the mutual admiration and respect that exists between players, irrespective of their generation or team affiliation. It also served as a reminder of the impact that sports personalities have on each other, transcending boundaries and leaving an enduring legacy for future generations.
As the news of this emotional exchange between Gavaskar and Dhoni spread, it resonated with fans and cricket enthusiasts, generating an outpouring of support and appreciation for both players. Social media platforms were abuzz with heartfelt messages, applauding Gavaskar's gesture and acknowledging the shared greatness of two cricketing stalwarts.
While the IPL 2023 has concluded, the emotional autograph moment between Sunil Gavaskar and MS Dhoni will be etched in the memories of cricket fans for years to come. It serves as a reminder of the profound impact players can have on each other's lives, transcending the boundaries of the game and showcasing the bonds that unite them.